News from Lady of the Sea
Click here to read our Newsletter!
---
Lady of the Sea General Hospital and American Cancer Society hosted Love Lights a Tree on Tuesday, December 12th, 2017 at 6:00 PM in the main lobby of the hospital. It memorializes and honors those lives touched by cancer. Click on the buttons below to scroll through pictures.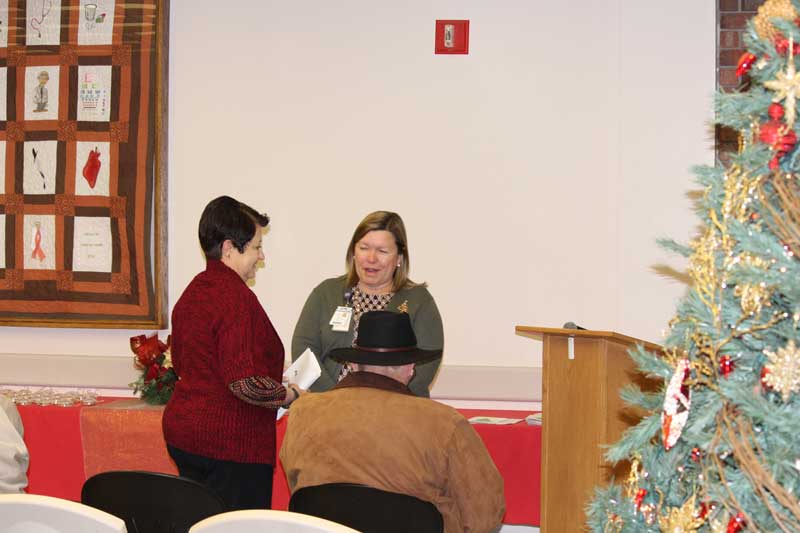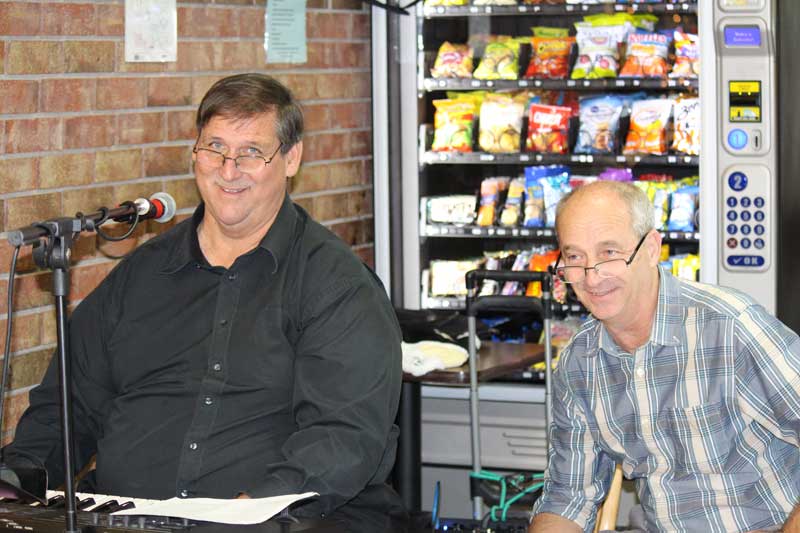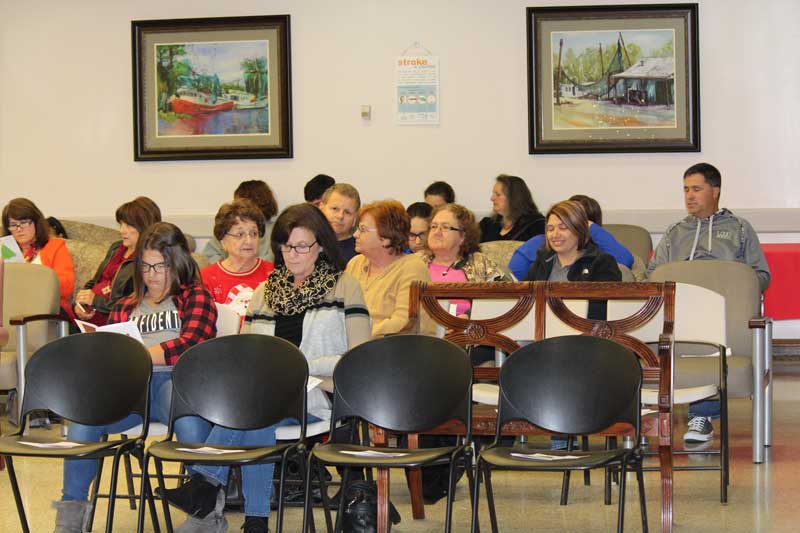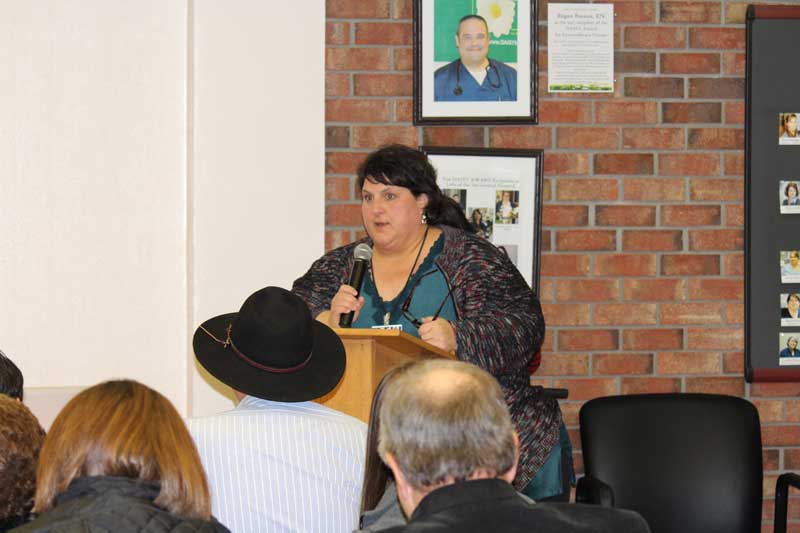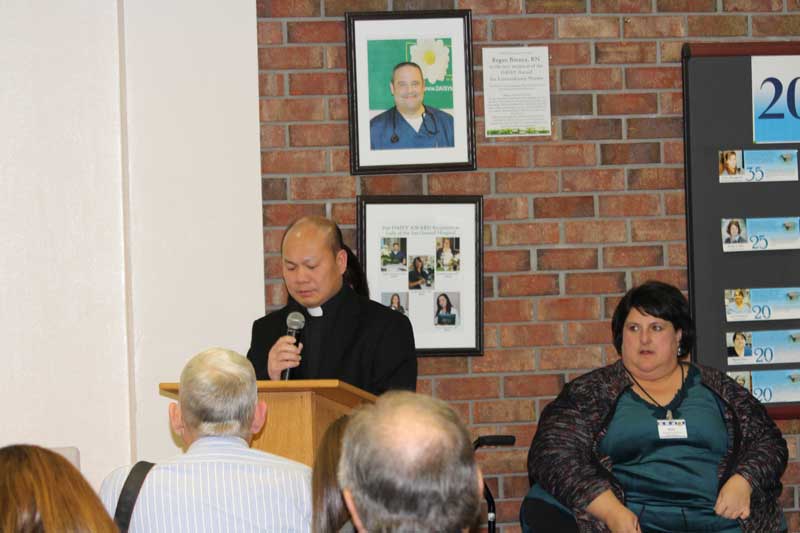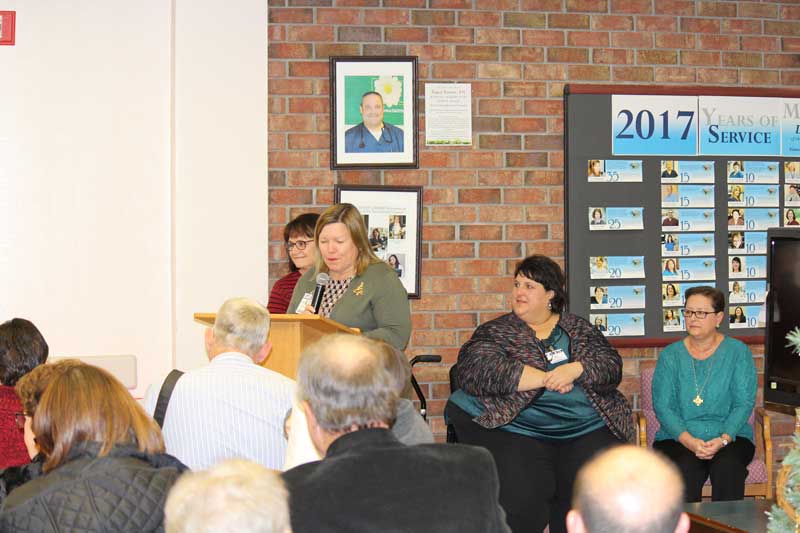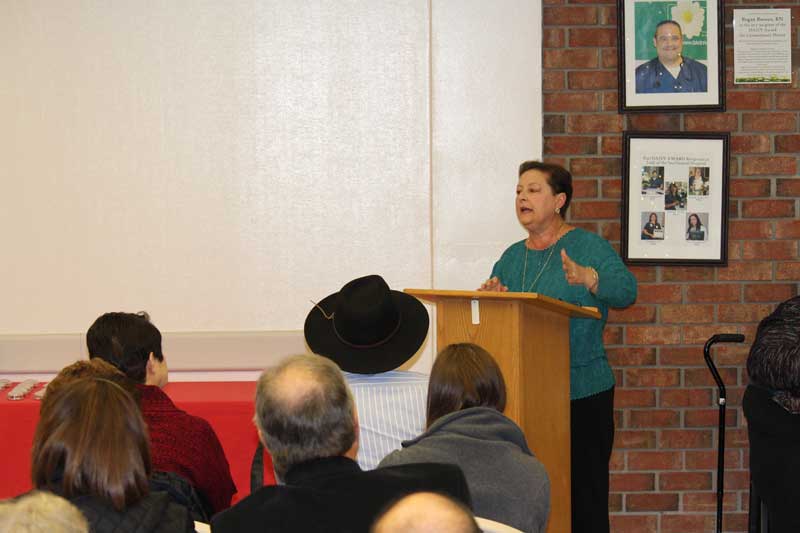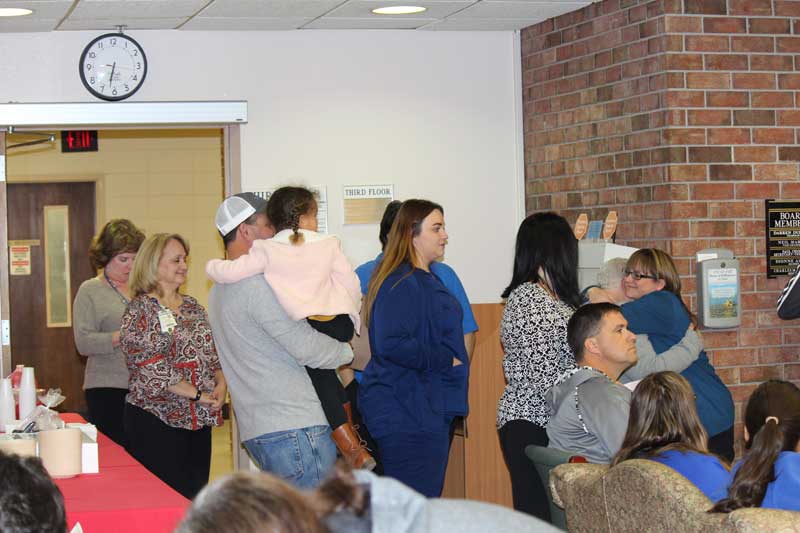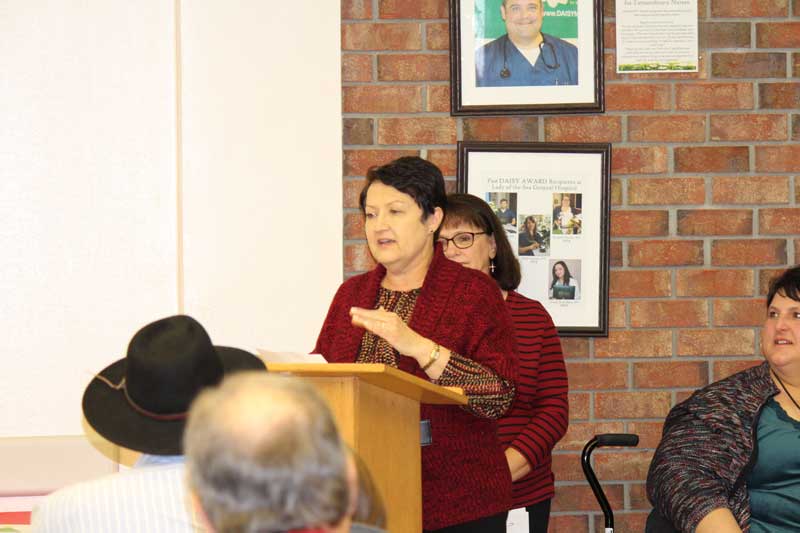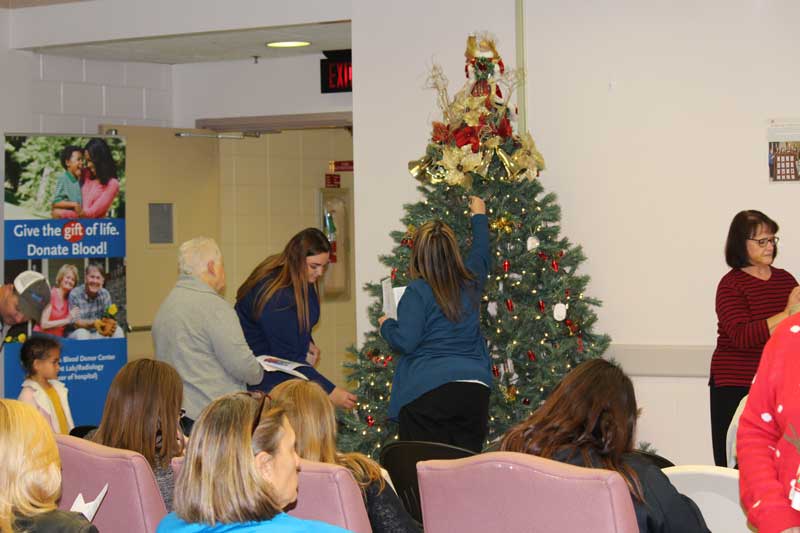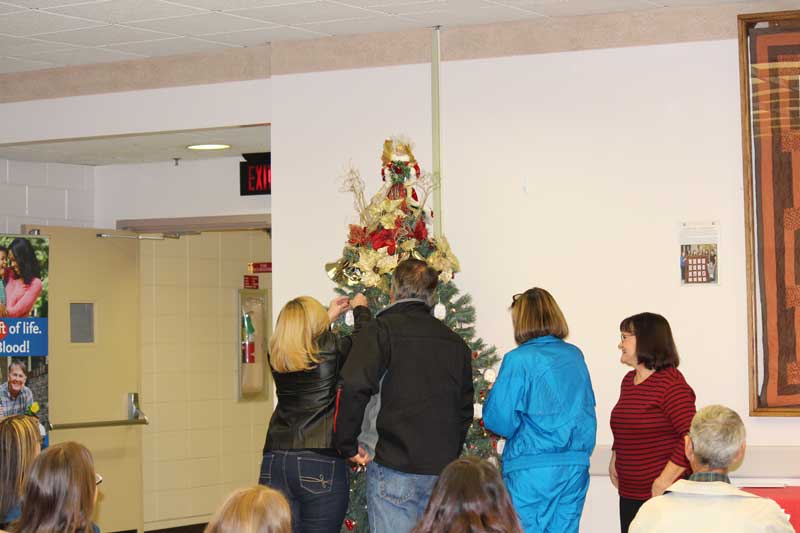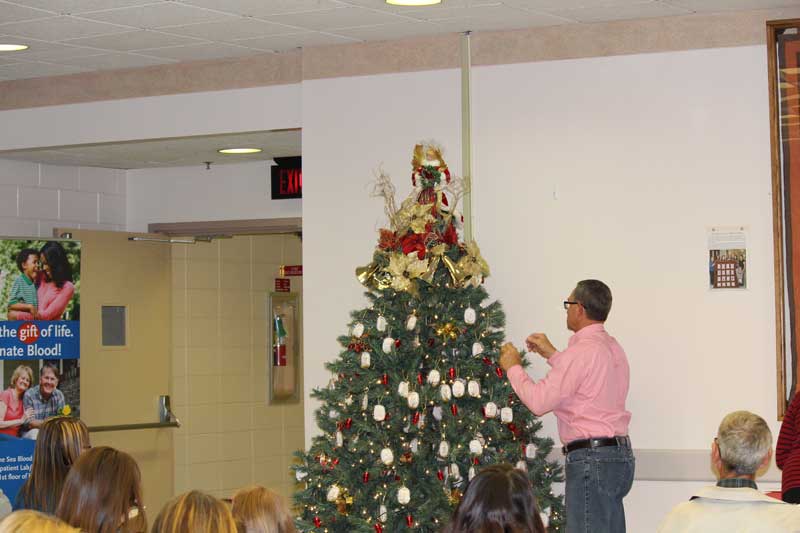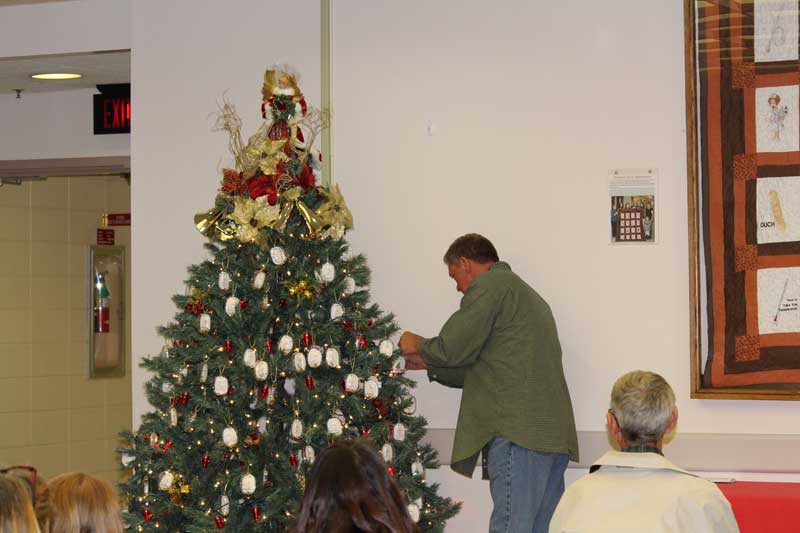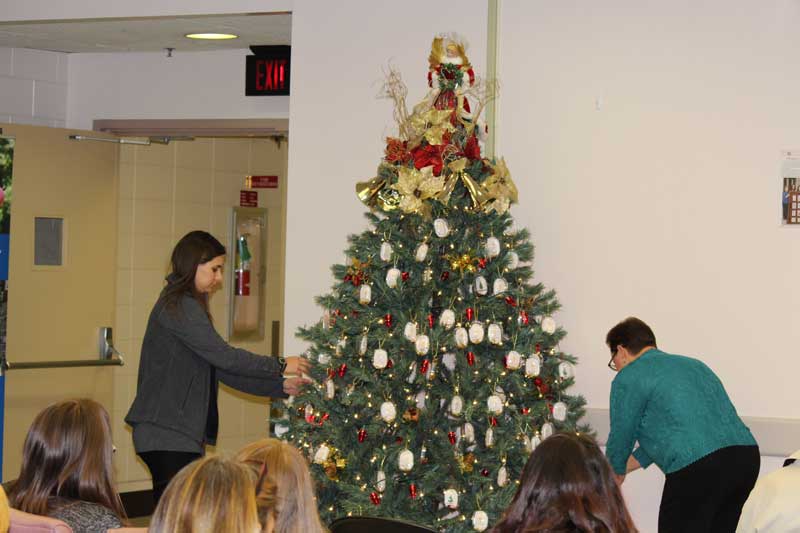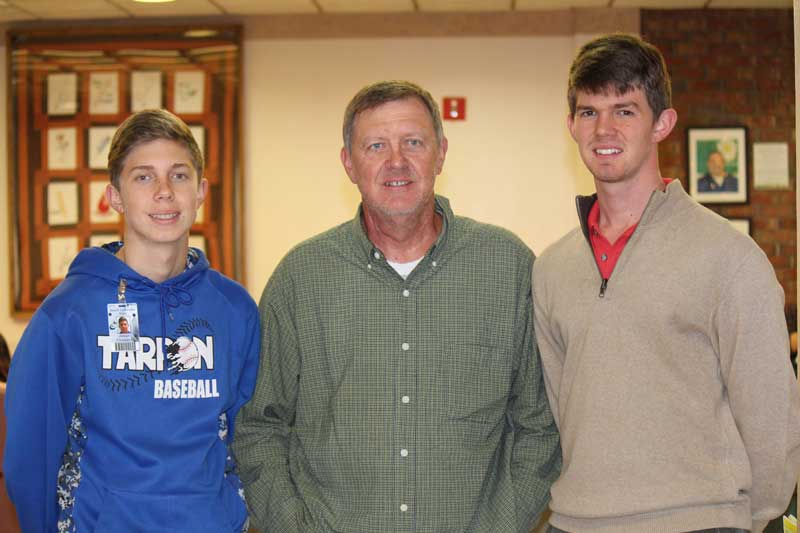 ---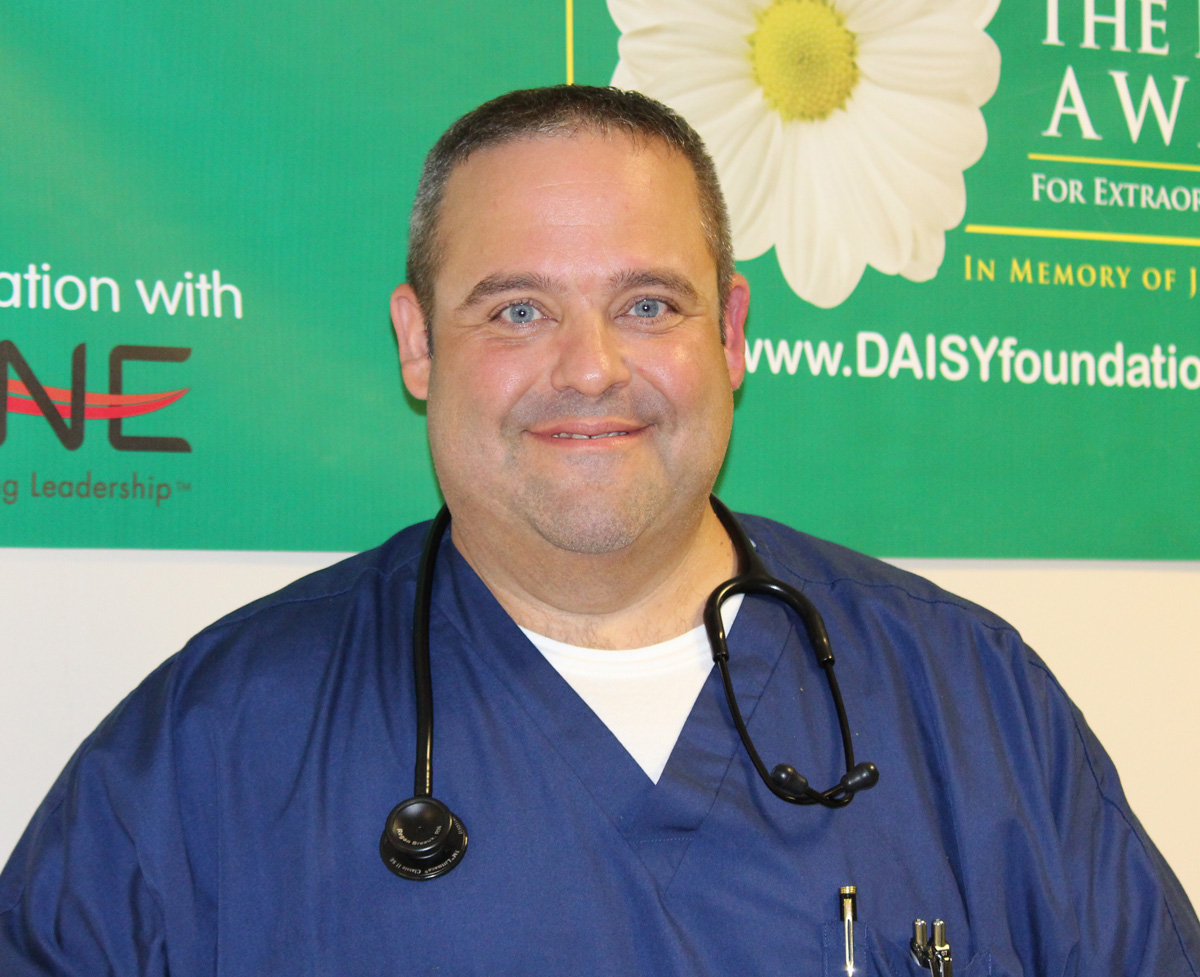 Lady of the Sea is proud to announce Regan Breaux, RN from the Medical-Surgical unit, as the recipient of the DAISY Award for Extraordinary Nurses for 2017.

The DAISY Award recognizes the extraordinary care and compassion provided by nurses. Quotes from Regan's nominations: "He was just great. His personality and compassion were over and above. He was kind of a cheerleader for my husband, very encouraging. When my husband didn't need the pain meds after surgery, Regan praised him; it was nice. He also checked on me if I needed or wanted anything. It made the experience a very positive one." "Regan not only made sure I had what I needed and was comfortable but that my wife was as well. He was very compassionate; explained things to me and encouraged me very much. He made my stay a good stay!"
Please continue to submit nominations by downloading and returning this form in the DAISY Box located at the front lobby reception area or mailbox area. You may submit nominations as often as you like, since this is an ongoing recognition program. Certificates may be given out monthly and awards will be given out annually. If you have any questions, please contact Holly Griffin, CNO at (985) 325-9407.
---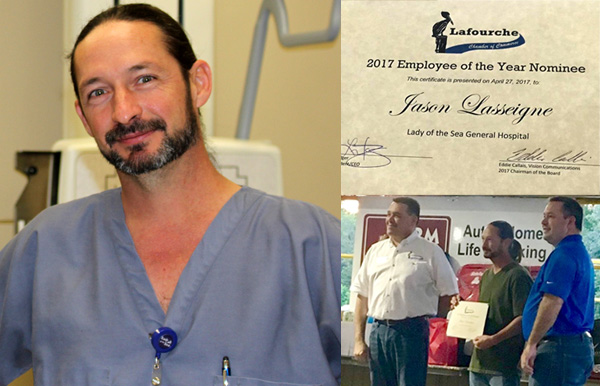 Chamber Employee of the Year!

Congratulations to Jason Lasseigne, R.T. (R) (ARRT), Radiology Tech in our Radiology Department, who earned the honor of our Employee of the Year! Jason was also recognized as a Nominee for the Chamber of Lafourche Employee of the Year. Jason's top priority is the patient, and he regularly receives recognition from his patients as well as fellow staff members for his assistance.
---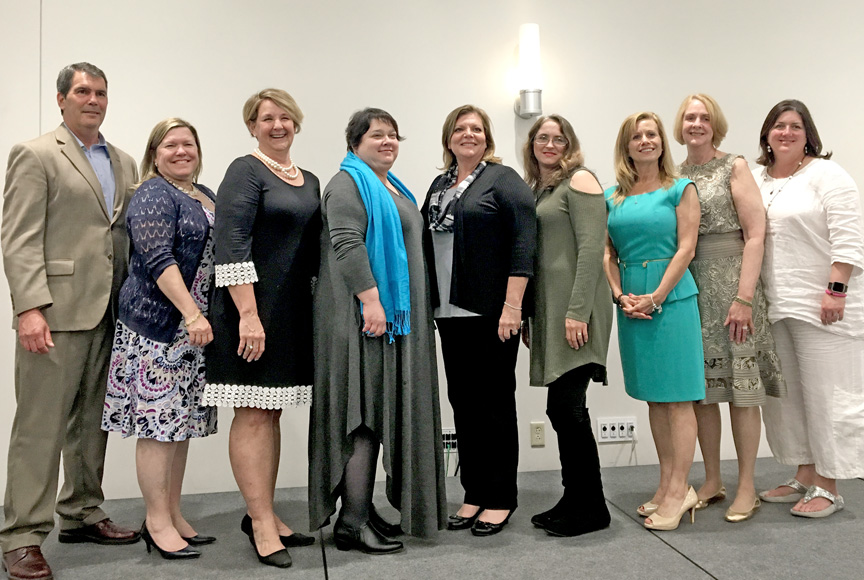 Best of Lafourche Excellence in Healthcare Awards

Congratulations to our 13 employees recognized at the Best of Lafourche Excellence in Healthcare awards in April! Pictured left to right: Lloyd Guidry, Pharm D, Chief Operating Officer and Director of Pharmacy Services; Karen Collins, RN, BSN, Chief Executive Officer; Suzanne Pitre, RN, Director of Home Health Services; Maria Gros, RN, Emergency Department Charge Nurse; Helene Melancon, RN, BSN, CIC, Director of Infection Control, Employee Health, Quality; Chantelle Bouffanie, CNA, Emergency Room Certified Nursing Assistant; Ruby LeBlanc, RN, CDE, Director of Learning Center and Diabetes Educator; Shirley Griffin, RN, Registered Nurse Renal Dialysis Unit; Dr. Camille Pitre, Family Medical Physician, Lady of the Sea Medical Clinic - Larose. (Not Pictured: Dr. William Crenshaw, Chief of Staff and Medical Director of the ER; Buffy Lafont, RN, BSN, Director of Emergency Services; Tad Lafont, RN, Chief Clinic Officer; Dwight Matherne, PA-C; Physician Assistant, Lady of the Sea Medical Clinic - Cut Off)
---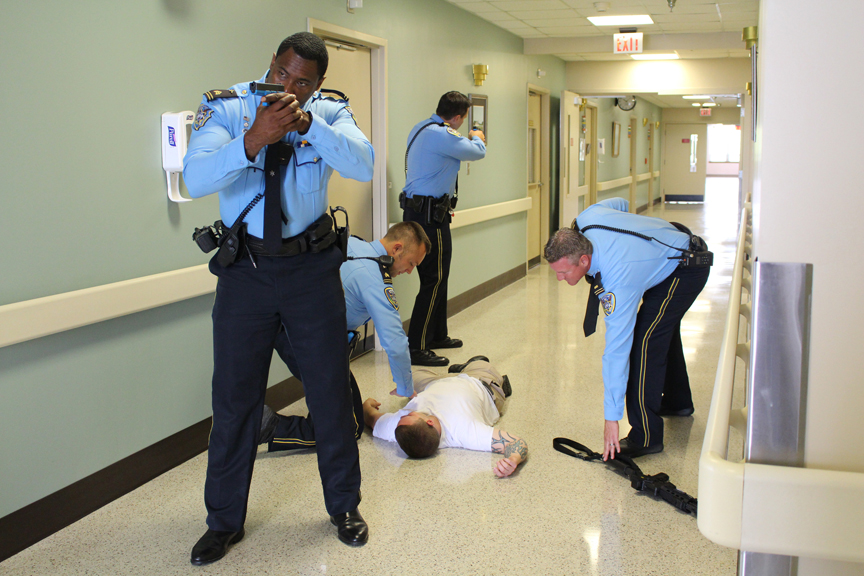 Training Exercise at Lady of the Sea

March 10, 2017, Galliano, LA – Lady of the Sea General Hospital conducted a training exercise today in conjunction with the Lafourche Parish Sheriff's Office and Lafourche Parish Homeland Security and Emergency Preparedness, as well as the Lafourche Ambulance District #1, LERN and ESF8.
"The purpose of the training exercise was to put our employees and policies into a drill setting to identify areas for improvement in the safety of our facility and staff," said Karen Collins, RN, CEO of Lady of the Sea General Hospital. The scenario for the mock drill included an active shooter posing a threat in a specific area of the hospital, causing staff throughout the facility to respond. Patient care was not affected during the drill, and the hospital remained open throughout the exercise.
Following the conclusion of the drill, all participants met to discuss the processes and procedures that had taken place, as well as questions and concerns that came about as the drill progressed.
"The safety of our patients, staff and community are a priority for us at the hospital," said Collins. "Drills such as the one conducted today keep our focus on consistent improvement in our response to emergency situations and afford us the opportunity to partner with law enforcement and emergency responders."
---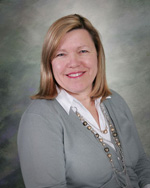 Lady of the Sea CEO Karen Collins featured in healthcare publication!

Becker's Hospital Review, a healthcare industry publication reporting business and legal news and analysis relating to hospitals and health systems, has posted the article "28 Nurses Who Transitioned to Hospital CEOs." Lady of the Sea General Hospital CEO Karen Collins is listed among several other peers with similar nursing backgrounds holding a top executive position. We are proud to have Karen lead LOSGH as CEO! Please click here to view the entire article.
---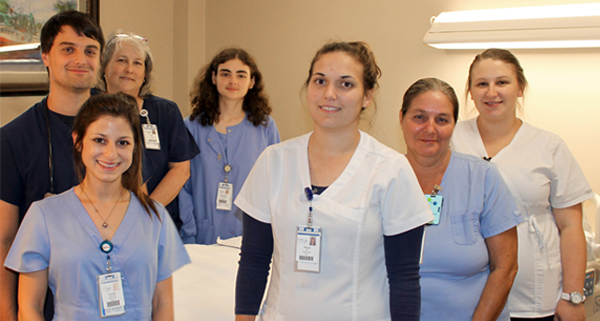 Message from CEO Karen Collins
Proven best at what we do.
I'm proud to announce that Lady of the Sea General Hospital was recently named one of the Top 20 Critical Access Hospitals (CAH) in the United States for best practice in patient satisfaction. The rankings were recently announced by the National Rural Health Association (NRHA), and Lady of the Sea will be recognized for their achievement at the NRHA's Critical Access Hospital Conference in September in Kansas City, MO. This award highlights our staff's commitment to quality care, and their constant focus on patient safety, satisfaction, and quality outcomes. Lady of the Sea has been the recipient of a 5-star rating (highest) from the Centers for Medicare and Medicaid (CMS) for the last 5 calendar quarters for their outstanding patient satisfaction scores. Lady of the Sea remains the only full service hospital in Terrebonne and Lafourche parishes to achieve this recognition.Lady of the Sea has recently implemented Telepsychiatry services through South Central Louisiana Human Services. By adding this service, our patients in the ER and on the Medical Surgical Unit can have access to Psychiatric services. We are pleased to be able to add specialty services for our community through Telemedicine. We currently provide Telestroke through Ochsner, Teleradiology, and Telecardiology with Cardiovascular Institute of the South (CIS).