Nutritional Services / Cafeteria
Lunch Menu for January 14-20, 2019
Monday
STUFFED ARTICHOKE SOUP
BAKED PORK CHOPS
STEAMED RICE
LIMA BEANS
CHEESECAKE
Tuesday
BAKED POTATO SOUP
LASAGNA
STEAMED BROCCOLI
GARLIC BREAD
PIE
Wednesday
MINESTRONE SOUP
HAMBURGER STEAK W/GRAVY
MASHED POTATOES
STEAMED CARROTS
FRESH FRUIT
Thursday
VEGETABLE SOUP
CHICKEN ALFREDO GREEN BEANS
DESSERT
Friday
BROCCOLI SOUP
TUNA SALAD SANDWICH
POTATO CHIPS
JELLO W/WHIP CREAM
Saturday
BAKED PORK CHOPS
STUFFED POTATOES
MIXED VEGETABLES
COOKIES
Sunday
CHICKEN SPAGHETTI
STEAMED BROCCOLI
GARLIC BREAD
PIE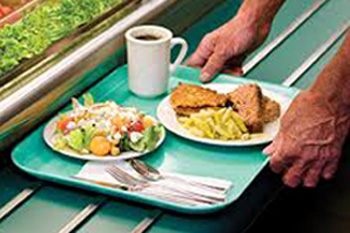 • Cafeteria area is open from 6:30 a.m - 5:30 p.m., with a closure between 1:00 - 2:00 p.m. for cleaning.
• Lunch is served in the cafeteria from 11:00 a.m. - 1:00 p.m. Monday through Friday.
• Guest meals can be purchased at the front office for $5.00.
• Breakfast options are available for minimal costs.
• Vending machines are located in the front lobby and Emergency Room entrances, available at all times.
A good, hot meal, friendly staff and a clean environment. Sounds like a great place to grab a meal, doesn't it? It's exactly what you'll find every day at Lady of the Sea.
Our Nutritional Services department, managed by Gay Orgeron, believes that providing good nutritious meals makes a difference both to our patients and their families. "People from our area respond to food," says Mrs. Orgeron. "When families come to a hospital, it's sometimes a stressful situation. They don't want to have to leave to get something to eat. We make sure to provide a balanced, nutritious meal so that our patients and their families can feel better sooner."
The Nutritional Services department serves classic fare such as baked chicken and homemade soups, while also preparing Cajun classics such as shrimp stew and gumbo. All meals are complete, with a soup, main entree, vegetable, dessert and salad bar. "We want people to feel at home and not worry about what they'll have to eat while they're here at the hospital," said Gay Orgeron.
The staff in Nutritional Services includes employees who work together like a well-oiled machine, each doing their part and helping each other. The service they provide makes a huge impact not only on the patients and families but also on our employees. Many of our employees spend their lunch time in the cafeteria enjoying a meal and visiting with their co-workers. The family-type atmosphere that is formed in our cafeteria carries itself to other parts of our facility and accounts for some of our employee satisfaction rates.
Next time you find yourself at Lady of the Sea around lunch time, come in to our cafeteria and experience the friendly, welcoming atmosphere while you enjoy a well prepared meal. You'll be glad you did.