Coronavirus Disease (COVID-19)
Vaccine Administration:
Updated March 26, 2021:
Louisiana providers who are administering the COVID-19 vaccine must adhere to the guidance developed by the Louisiana Department of Health to ensure an equitable approach to making vaccinations available to as many people as possible in the eligible groups.
Vaccine providers that currently have doses of the vaccine must follow the guidance below in order to remain eligible to receive future COVID-19 vaccine allotments.

Effective 3/29/21: All individuals over the age of 16 are eligible to receive the vaccine.
---
Important Messages From Our Physicians (Click images to watch videos):
Posted December 7, 2020 --
---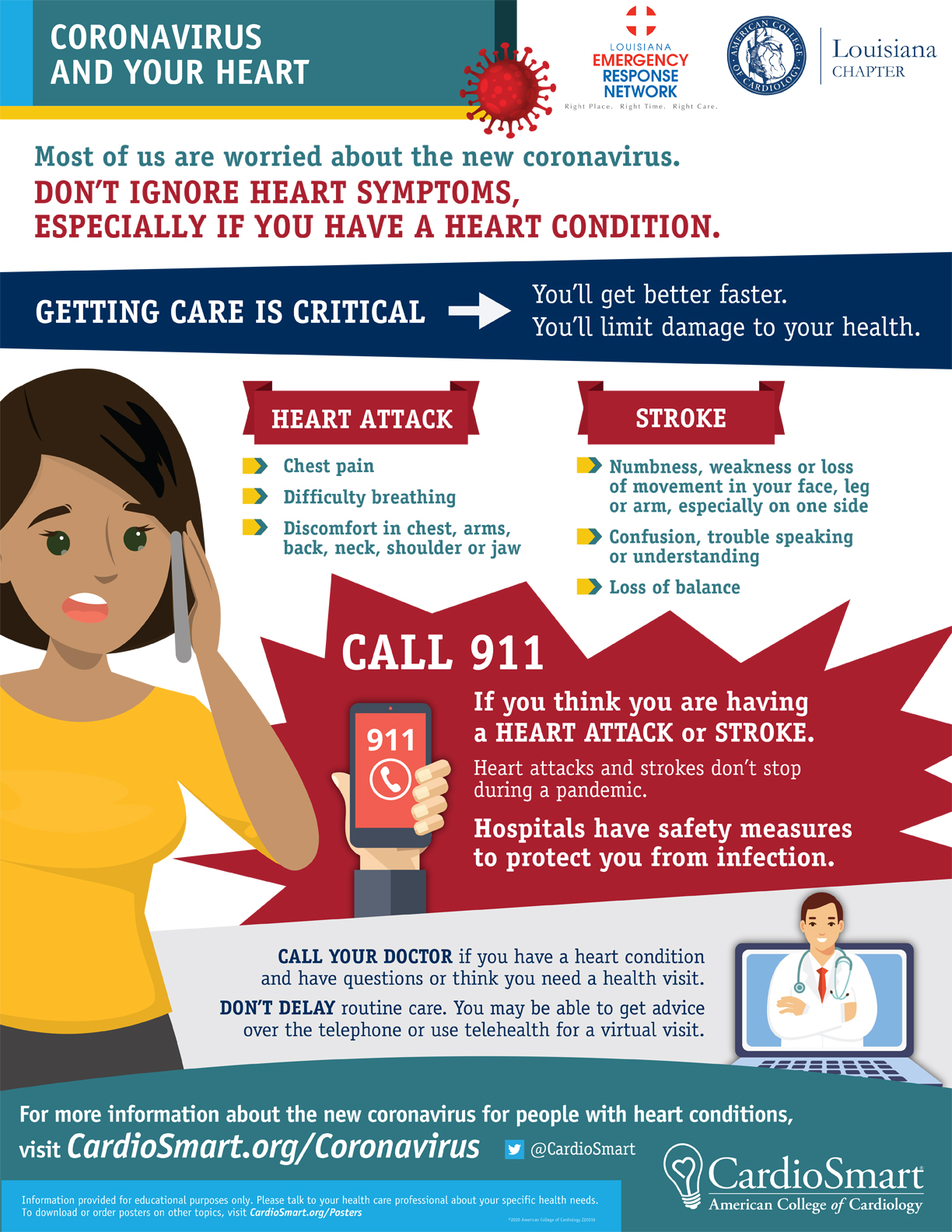 ---
Please do not delay medical care! Reports of delayed medical care are of great concern for our community. As people are adhering to the Stay Home order, they are putting off their routine medical appointments, tests and treatments. Depending on your medical condition, this can greatly impact your health and recovery.
We want to reassure our South Lafourche community that we have put into place state and national best practices to ensure your safety and health when visiting our clinics, hospital and ER.

Click here or on the image to read more about these changes.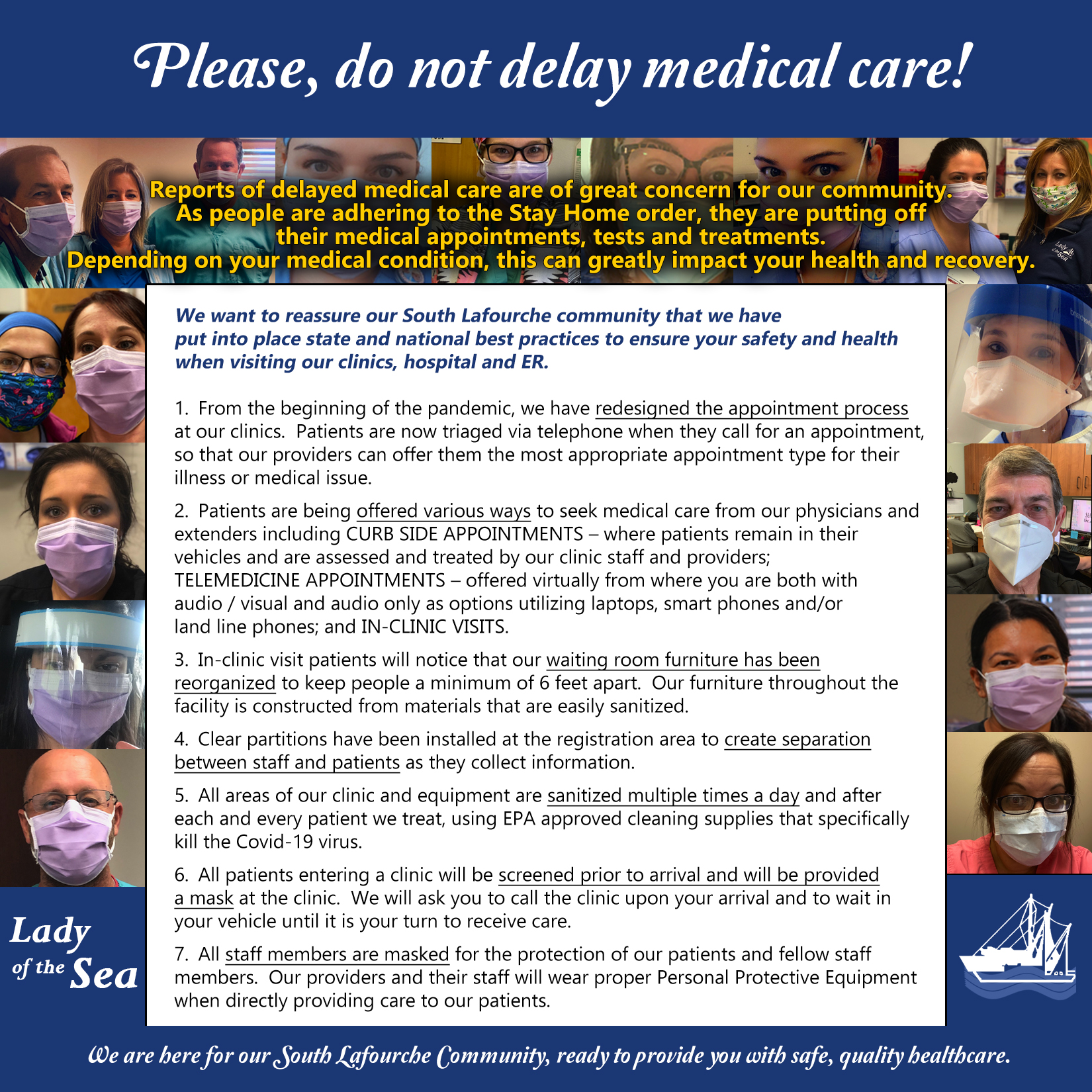 ---
A Notice for Patient and Visitors:
Posted April 23, 2020 --
Lady of the Sea Hospital and Clinics are following the Louisiana State Department of Health guidelines on visitor restrictions. Only essential visitors are allowed in the Emergency Department, Clinics, and Medical Surgical Unit. All visitors will be screened before entry. Please call 985-632-6401 for additional information.

Outpatient Covid-19 testing is available at Lady of the Sea Medical Clinics. Please call Lady of the Sea Medical Clinic-Cut Off at 985-632-6233 or Lady of the Sea Medical Clinic-Larose at 985-798-7000 for specific information about Covid-19 testing.
---
COVID-19 Community Support for our Hospital and Clinics:
Posted April 23, 2020 --
A sincere THANK YOU on behalf of all of our employees and patients for the outpouring of kindness and support we have received from the South Lafourche community as we have had to change many of our functions in our clinics and hospital to accommodate the novel Covid-19 virus.
Throughout these first few weeks of the pandemic, we have received so many different types of support.  Many individuals and groups have reached out to us with offers of support, donating PPE, snacks, meals for our staff, masks, accessories to help with masks, even personal hygiene items and personal cards and flowers to brighten our spirits. We sincerely appreciate each and every one!
Everyone's kindness and generosity is genuinely appreciated! Together, we are #Lafourchestrong!
SUPPLY DONATIONS
For information about donating supplies or PPE (Personal Protective Equipment), please email stacym@losgh.org. 
FOOD & TREAT DONATIONS
For information about coordinating donations of food and snacks and other items for our staff, please email lavellec@losgh.org. We will help you select days and times and explain drop-off locations and procedures.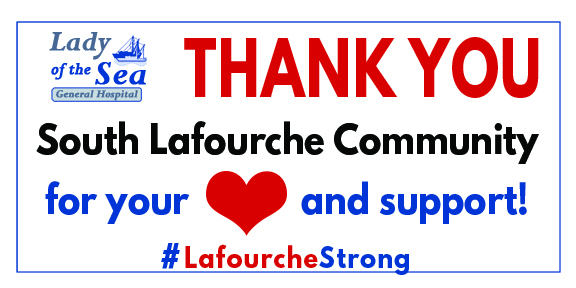 ---
Press Release from Lady of the Sea General Hospital:
March 25, 2020
Lady of the Sea Medical Clinics announce access to Telemedicine and Curb-Side Clinic Visits
Galliano, Louisiana -----Patient safety has always been the top priority at Lady of the Sea. In an effort to offer the highest level of patient safety, we have implemented Telemedicine visits for our patients in the last week. "Prior to the Pandemic, our rural health clinics did not provide Telemedicine services due to specific rules for Medicare and Medicaid, but as the government responded to Covid-19 by changing some of the rules, Telemedicine has become a great way for us to offer medical care through our Larose and Cut Off Family Medical Clinics," said Tad Lafont, Chief Clinic Officer at Lady of the Sea.
By offering Telemedicine, some patients will be able to access the same quality care at home as they do with an in-clinic visit. All that is needed is a phone line for audio appointments or an internet connection and a smart phone or tablet for an audio / visual visit.
All patients are asked to call their clinic if they start feeling ill or have some other healthcare need. The phone clerks at the clinics are working directly with the providers to offer the best option for medical care to protect our patients and their families. We ask that when calling in, patients be prepared to offer detailed information on the reason for your visit, so that we can offer each patient the best options for each unique situation.
Some patients may need to be seen in person by a provider, but may not need to come into the clinic. For these patients, we have set up curb-side visit areas at both of our clinics in Larose and Cut Off. We have reimagined the patient visit as they go through the process to make sure that our services continue to be timely, accessible and safe for all of our patients.
For those patients that will be seen in the clinic, Lady of the Sea has put into place limited access in our waiting area to only patients and essential caregivers of those patients. "We've enacted a strict no visitor policy for both of our clinics. Anyone needing to enter the clinic is screened prior to entering the waiting area," Mr. Lafont reported. "We are committed to doing everything we can to provide health care in a safe, HIPAA-compliant environment for our community and our patients."
We have also enacted many of the same policies and services at our Lady of the Sea Outpatient Rehab clinic. We offer Physical, Occupational and Speech therapy services through audio / visual communications as well and have been working diligently to work with all of our patients to continue to provide for their therapy needs during these trying times. Each patient case will be evaluated by the therapy staff to maximize the effectiveness of therapy plans utilizing the Telemedicine platforms available.
Our clinics, pharmacies and hospital employ people from our community. Our employees take great pride in providing the highest quality in healthcare to their families, friends and neighbors here in South Lafourche. We strongly urge everyone to continue to follow the advice of the CDC, the Louisiana Department of Health and our federal, state and local leaders - wash your hands frequently for 20 seconds at a time, cover your cough with the inside of your elbow or a tissue, practice social distancing when you must leave your home, and stay home as mandated. By all of us doing our part to fight this Pandemic, we hope to limit its impact.
---
Steps to Help Prevent the Spread of COVID-19 If You Are Sick:
---
Financial Information:
The cash price for COVID-19 screening test is $105.00.
These are tough economic times, but we may have programs to help you get financial assistance for healthcare. Lady of the Sea General Hospital is a Medicaid Application Center. We can assist you with applying for Medicaid. To schedule an appointment, please contact our Financial Assistance staff at (985) 632-8312.
---
Behavioral Health Resources:
Stress and strong emotions are affecting people during this COVID-19 outbreak. Here are resources available to help with mental health.
Visit the Louisiana Department of Health's Office of Behavioral Health website here to read about their "Keep Calm Through COVID" Hotline
---
A Notice for Patient and Visitors:
Posted March 13, 2020 -- Lady of the Sea General Hospital is following the state guidelines and has implemented visitor restrictions for our hospitalized patients. This means that only approved, essential visitors will be allowed on the Med Surg Unit. Please help us in protecting our patients and staff by following all guidelines and policies. For further information, please call the hospital at (985) 632-6401.
---
Louisiana Information:
Click here for more information specific to Louisiana only from the Department of Health and Hospitals website.
Per the Louisiana Department of Health, Louisiana's statewide 211 network is now answering calls about COVID-19, also known as the coronavirus. This network is best designed and staffed to handle the large volume of calls from Louisiana residents who are concerned and who have questions about the rapidly-spreading virus. Anyone looking for information about the COVID-19 outbreak can simply dial 211 or text the keyword LACOVID to 898-211 for the most current information about the outbreak as it becomes available.
---
Centers for Disease Control and Prevention (CDC) Information:
CDC Recommendations - While the immediate risk of this new virus to the American public is believed to be low at this time, everyone can do their part to help us respond to this emerging public health threat:
• It's currently flu and respiratory disease season, and the CDC recommends getting a flu vaccine, taking everyday preventive actions to help stop the spread of germs, and taking flu antivirals if prescribed.
• Wash your hands often with soap and water for at least 20 seconds, especially after going to the bathroom; before eating; and after blowing your nose, coughing, or sneezing. If soap and water are not readily available, use an alcohol-based hand sanitizer with at least 60% alcohol. Always wash hands with soap and water if hands are visibly dirty.
For further information, visit the CDC's website here.
---
Press Release from Lady of the Sea General Hospital:
Press Release
Lady of the Sea General Hospital
March 12, 2020
Cut Off, LA -------In December 2019, when most of us were in full holiday mode, a new strain of Corona virus, now known as COVID-19, infected its first human.  What began in a small province in China has quickly spread internationally, despite efforts to contain the virus.  By February 2020, the World Health Organization (WHO) named the virus COVID-19, and community spread was detected in a growing number of countries, including parts of the United States. Each day, the number of patients confirmed and presumed positive continues to grow.  The situation is rapidly evolving, and the WHO declared the coronavirus outbreak a global pandemic on March 11, 2020.
  "Lady of the Sea General Hospital and Clinics have been proactively preparing to address the potential arrival of Covid-19 in our South Lafourche community through staff training, supply acquisition, and community education," says Karen Collins, CEO.  "Patient and staff safety is a top priority and we are following the guidelines of the Centers for Disease Control (CDC)."

How we are Protecting our Patients:
At Lady of the Sea General Hospital, we are currently asking community members not to visit patients in the hospital if the visitors have respiratory illness symptoms such as cough, fever, shortness of breath, sore throat or runny nose.
If you are ill with fever, cough or shortness of breath and are planning to see your healthcare provider, please call ahead and notify them if you have traveled to areas with Covid-19 community spread or have been exposed to anyone with Covid-19.
If you have respiratory symptoms, please put on a face mask immediately when you enter the clinics or hospital.
What You Should Know:
How Covid-19 spreads:

The virus is thought to spread mainly from person-to-person who are in close contact (6 feet), through respiratory droplets with sneezing or coughing.

Those most at risk:

Older adults and people who have severe underlying chronic medical conditions like heart or lung disease or diabetes seem to be at higher risk for developing complications from Covid-19 illness.
Prevention:
Taking the proper precautions is one of the best ways to protect your community and yourself. Here are some things you can do that will benefit your loved ones and fellow community members today.
Become up-to-date on the current influenza vaccine and the pneumonia vaccine, if you fall in the suggested groups to benefit from these.  By protecting yourself from these illnesses, it also helps protect those you come into contact with that may not be able to take the vaccines.
Stay home when you are sick, no matter what type of illness it may be.
Cover your cough or sneeze with the inside of your elbow or a tissue, then throw the tissue in the trash.
Wash your hands often with soap and water for at least 20 seconds, especially after blowing your nose, coughing or sneezing, going to the bathroom, before eating or preparing food, or if you have been in a public place.
Avoid touching your eyes, nose, and mouth with unwashed hands. 
If soap and water are not readily available, use an alcohol-based hand sanitizer with at least 60% alcohol.  Always wash hands with soap and water if hands are visibly dirty. 
Avoid close contact with people who are sick.
Practice social distancing if flu-type illness is prevalent in the community:

Avoid large public gatherings
Put distance between yourself and others
Avoid handshaking, hugging, kissing
Avoid touching high touch surfaces in public places like door handles and handrails.

Stay updated on reliable, current information by visiting www.cdc.gov or by calling the Louisiana Office of Public Health General Information Line at 1-855-523-2652, Monday –Friday 8am until 4:30pm.